TASC Board of Directors
The State Board of Directors is the policy-making body of the organization. The Board of Directors consists of: elected officer schools (advisor and student); the advisor of the immediate past president school; High School Coordinator School (advisor and student) three elected high school advisors; two elected middle-level school advisors; three members of the Texas Association of Secondary School Principals, the Director of the Texas Association of Student Councils, and the Executive Director of the Texas Association of Secondary School Principals. The board meets three times each year. TASC is governed by a Board of Directors and managed by full-time staff in Austin, Texas.

Please see our page on elections for applications for Elected Advisor on the Board, state officer, or conference coordinator.
2023-2024 OFFICERS
Schools (rather than individuals) are elected by the official student delegates attending the High School State Annual Conference. Each elected school selects a student to serve as a student officer. Schools wishing to serve as the HS Annual Conference Host submit applications and are selected by the Board. The officer schools of the organization are as follows:
OFFICER SCHOOLS
 

 

PRESIDENT:
NORTH FORNEY HIGH SCHOOL

Advisor:  CJ McClung
Student: Liyan Abu-Saqer


 

 

VICE-PRESIDENT:
CENTRAL HIGH SCHOOL

Advisor: Lianna Gantz
Student: Jojo Scherer

 

 

SECRETARY:
MANSFIELD LEGACY HIGH SCHOOL

Advisor: Kenna Cavnar
Student: Claire Carney

 
 

 

PARLIAMENTARIAN:
LD BELL HIGH SCHOOL

Advisor: Sarah Keith
Student: Madison Sanders

 

 

CONFERENCE COORDINATOR:
BYRON NELSON HS

Advisor: Sarah Milhorn
Student: Jessica Runyambo

 

PAST PRESIDENT ADVISOR:
TEXAS HIGH SCHOOL

Advisor: Susan Waldrep
ELECTED ADVISORS
 
 
Christy Reuter
Beck Junior HS (2024)
ML Elected Advisor
Phillip Jenkins
Forney HS (2025)
HS Elected Advisor
Rita Clawson
Ore City HS (2026)
HS Elected Advisor
 
 
 
Wilton Allen
Pietzsch-MacArthur PK-8 Center (2025)
ML Elected Advisor
Cheryl Royal
Bridge City HS (2024)
HS Elected Advisor
TASSP REPRESENTATIVES
 
 
Dr. Lee Vi Moses
Principal
Rogers HS (2025)


 

Nika Davis
Principal
Boswell HS (2023)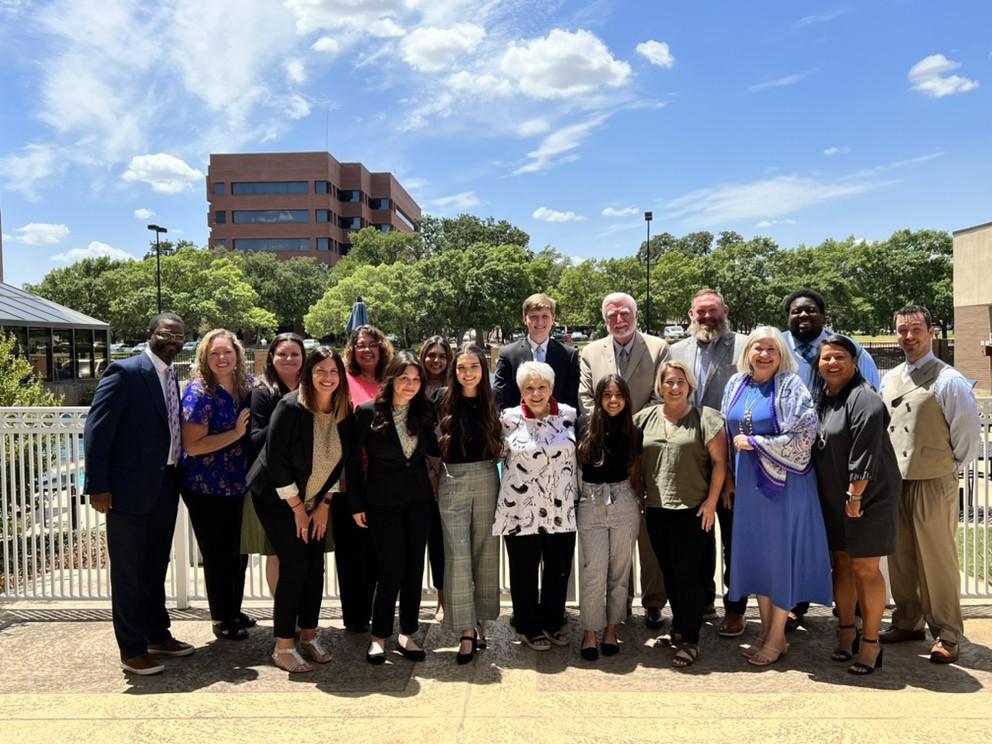 BOARD MEETINGS
To ask that an item be placed on the agenda, contact any board member or Patty Wangler at least one month prior to the meeting. These meetings are open to the public. To attend, please get in touch with Patty Wangler.
PAST BOARD MEETING MINUTES
August 1, 2022
November 11, 2022
April 21, 2023
April 2018     July 2018     November 2018
April 2019      August 2019      November 2019      April 2020
August 2022
TASC BUDGET
Budget Summary: 2019-2020 »  adopted August 2019